Cryptocurrency Regulations Around the World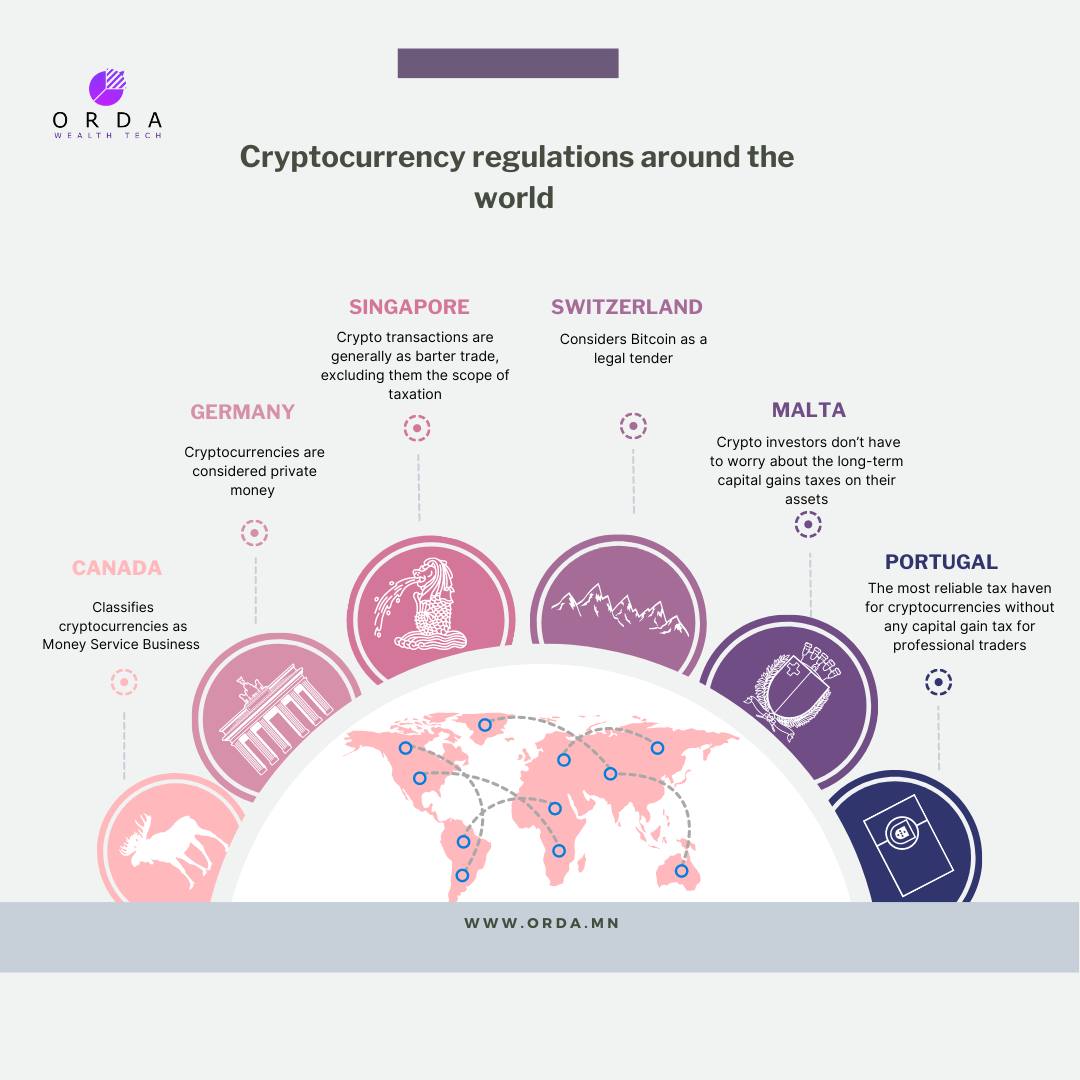 Cryptocurrency Regulations Around the World
Cryptocurrency regulations around the world are becoming increasingly important as cryptocurrency becomes a more mainstream form of investment. Governments are putting regulations in place to govern the use of cryptocurrencies, and the landscape is constantly evolving. Keeping up to date with the rules in different countries is not an easy task, but in this post, we will explore some of the notable countries that have already accepted cryptocurrencies.
Canada
Canada takes an open approach to cryptocurrencies without legislation restricting or objecting to using cryptocurrencies. It classifies cryptocurrencies as Money Service Businesses (MSBs), and crypto companies are obligated to register with the Financial Transaction Analysis and Reporting Center of Canada (FINTRAC). With these reliable regulations, blockchain companies have legal backing for their operations in Canada.
2. Germany
Germany has a unique approach toward cryptocurrencies. It considers cryptocurrencies private money, unlike many other countries that adopt cryptocurrencies as assets. Berlin has also emerged as a hub for many popular blockchain companies, such as EOS.
3. Singapore
Singapore is one of Southeast Asia's biggest global fintech hotspots and offers many legal opportunities for blockchain and crypto ventures. For instance, individuals do not have to fulfill crypto tax obligations for trading profits, and crypto transactions are generally perceived as barter trade, excluding them from the scope of taxation.
4. Switzerland
Switzerland has a reputation for its low-tax and high-privacy banking system. It takes an open approach towards cryptocurrency as it has relaxed regulations tailored for crypto investors and companies. The most notable highlights are that it allows cryptocurrency usage with maximum tax benefits and considers Bitcoin as a legal tender.
5. Malta
Malta has attracted many crypto companies, such as Binance, due to its flexible approach toward cryptocurrency and progressive legislation. Another important highlight of Malta is its tax relief policy, where crypto investors don't have to worry about long-term capital gains taxes on their assets. In addition, the Maltese government has come up with many legislations to make the country more appealing to crypto businesses.
6. Portugal
Portugal is the most reliable tax haven for cryptocurrencies, without any capital gain tax for professional traders. In 2020, it introduced a Digital Transitional Action Plan focusing on attracting investors from all over the world. As part of the plan, it offers the Golden Visa program to crypto companies, enabling non-EU residents to obtain residency permits for the country and enjoy tax benefits on cryptocurrencies.
Countries around the world are starting to accept cryptocurrencies legally and implement appropriate laws to govern their use. Keeping up to date with these laws is important for individuals and companies alike who wish to participate in the cryptocurrency market.